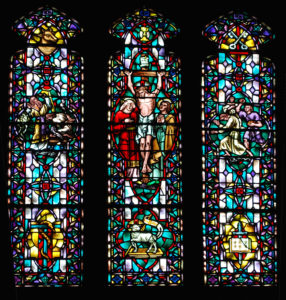 Music at First Lutheran
"In contrast to Christian traditions which, on the one hand, emphasize only congregational singing, or, on the other, only sophisticated art music, the Lutheran tradition has from its beginning encouraged the reciprocal interaction of simple congregational song and art music of the most sophisticated kind. The result is an environment in which congregations, musicians, and composers all contribute to a vibrant worship life."
Statement on Worship and Music
by the Association of Lutheran Church Musicians, 2003
The Choir is comprised of professional and volunteer voices, provides leadership for the 11:00 a.m. service on Sunday mornings and Holy Days as announced. The repertoire includes a generous amount of American music, as well as music from all parts of the world. In any given week, the choirs may sing a Gregorian chant from the earliest centuries of the Church, a Renaissance motet, a Bach cantata reflecting the best of the Lutheran choral tradition, English anthems from the Victorian and Edwardian eras, and modern music composed during recent years and up to the present day. Weekly rehearsals are held in the choir room at 7:30 p.m. on Wednesday evenings from September through May.
The Handbell Ensemble rings regularly in worship, and rehearses in the bell gallery at 6:30 p.m. on Wednesday evenings from September through May. Opportunities exist to explore solo and small ensemble ringing for those looking for additional challenges that involve advanced techniques and multiple bells.
The Children's Choir (grades 3-6) meets on Sunday mornings at 9:45 in the choir room. Children begin exploring the technique of part-singing through the use of canons, rounds, and descants. Music theory is taught and the children are challenged to learn more advanced choral pieces.
Children's Handbells (grades 5-6). Children are taught the use, care and correct playing technique for handbells. Music theory and musical pieces are learned in this group. Independent part playing is developed and strengthened during the weekly rehearsals.
Music for Young Children meets on Sunday mornings at 9:45 a.m. in Room 203. Children explore the rudiments of music and the development of the singing voice using fun songs and age-appropriate musical games. Various rhythm instruments are also used during the music time. Parental attendance and participation is encouraged.
Although professional musicians are engaged for the holy day services, additional musicians are needed to accompany the choirs, or to provide a musical offering when the choir is on break. For this endeavor, instrumentalists from within the congregation are most desired. If you play an instrument (string, brass, woodwind) and have an interest in playing for services as needed, you are invited to express your desire to our Director of Music, Ryan-Michael Blake at rmblake@flcnorfolk.com.