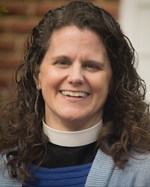 Cathy Mims
Pastor
Pastor Cathy Mims is a graduate of Indiana University and Lutheran Theological Southern Seminary, Pastor Mims served as co-pastor with her husband, the Reverend Scott Mims, at Good Shepherd Lutheran in Virginia Beach from 2007 – 2016. She and Scott reside in Virginia Beach, and have two children, James, and Jacqueline.
In addition to her parish work, Pastor Mims is a trained Healthy Congregations Facilitator, and serves as a representative of the Office of the Bishop as Dean of the Tidewater Conference. She has served as vice-pastor for two congregations during their pastoral vacancies, and is a member of the Quincentenary Organizational Committee in the Tidewater area, helping plan ecumenical events for the 500th observance of the Reformation.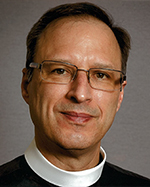 Scott Mims
Pastor
Scott was first introduced to the Lutheran Church by a friend in college. From a "rediscovery" of faith, to a love for worship, to a call to serve, much has followed from that simple invitation. Because of this, Scott is passionate about helping others connect their lives to the life of Jesus Christ and to His Church.
Ordained by the ELCA in 1998, Scott served congregations in Sheffield and Ludlow, Pennsylvania, as well as Roanoke and Virginia Beach, Virginia prior to being called to First Lutheran in 2022. His areas of focus include discipleship, marriage ministry, stewardship, leading small groups, and worship. Scott is a trained Healthy Congregations facilitator for the Virginia Synod, and a regular small group leader at the Synod's youth retreats.
Scott is a graduate of Clemson University (B.S. Chemical Engr.) and of the Lutheran Theological Southern Seminary (M.Div.). He enjoys playing music, photography, and homebrewing, but most especially spending time with his wife Cathy and their two children.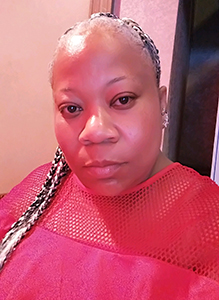 Trina Winfield
Office Administrator/Bookkeeper
Trina Winfield is our Office Administrator/Bookkeeper. She brings with her decades of successful accounting experience, management skills, and hospitality. Trina specializes in Accounting, Bookkeeping, Grants and Contracts. She has worked for organizations such as the Baltimore City Health Department, Associated Black Charities, The Baltimore Station, and Augsburg Lutheran Home.
A strong believer in the power of positive thinking, Trina focuses on internal wellness and encourages others to utilize effective mental and emotional health techniques.
Trina enjoys spending time with her family, listening to music, meditating, and occasionally a good Netflix binge.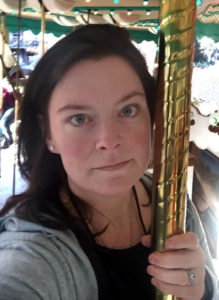 Kate Minnick
Administrative Assistant / Communications
Since beginning her secretarial career more than 25 years ago, Kate has worked in virtually all types of industry including law, accounting, construction, non-profit, and higher education.
Currently, Kate, her husband Andy, and their daughter Sarah reside in South Norfolk where they claim family ties to the community that go back well over a hundred years. Their family are big history buffs, so they enjoy spending a lot of time in various historical sites throughout Virginia, especially Colonial Williamsburg.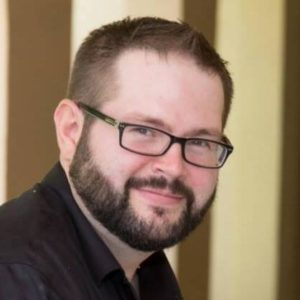 Ryan-Michael Blake
Director of Music
Since April 2016, Ryan-Michael Blake has introduced a variety of musical styles and resources to the worship of First Lutheran, reflecting the vast diversity of our hymnal, Evangelical Lutheran Worship. Having received formal education in the canon of historic liturgical music, while also homegrown in the vernacular styles, he strives to present music authentically, respecting the articulated intentions of composers, as well as the integrity of cultures around the world. The music used in worship at FLC is selected for its connection with the sacred texts of the day, regardless of any categorical genre or label. Within a single service the psalms, hymns, and spiritual songs can span over twelve centuries of musical expression in response to the same verse of scripture, giving voice to the great cloud of witnesses from all times and places.
Ryan-Michael has also expanded the music ministry of the congregation beyond the walls of the church and into the community by the creation of two initiatives: Music In Our Schools, supporting the work of music educators in our neighborhood; and Music as Spiritual Care, the use of music in a therapeutic way, offering healing to mind, body, and spirit.
The generosity of the congregation provides for his membership in the Association of Lutheran Church Musicians and sponsors his participation in their national conferences.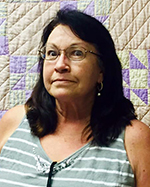 Betty Pittman
Sexton
Betty has worked various jobs over the years. Since becoming sexton at FLC, she hopes to call this her last.
Her interests include working with her hands, reading, gardening, eating and napping.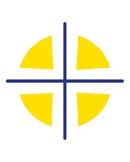 Mary Zelasko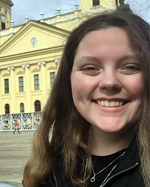 Maren Corliss