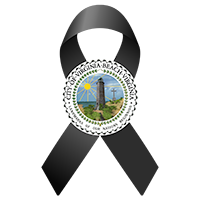 Pastoral Message by Pastor Goeres on Sunday morning following the May 31 shooting at the Virginia Beach Government Building:
(Hear and then sing together the Prayer Refrain for our worship service this morning, Lord, Listen To Your Children Praying. ELW 752)
Two weeks ago, we paused at the beginning of our worship service for a medical emergency, praying for one of our members and the medical and emergency personnel who came by way of the center aisle to care for life.
This morning we pause again at the beginning of our worship service to ponder and acknowledge the heart wrenching loss of life and injuries in the horrific shooting that took place in the VB Government building. (Missy was a member of Good Shepherd. Steve played softball on our team for 12 years.) We are again humbled by the courageous work of medical, emergency, law enforcement, pastoral care, counseling/support, and government personnel who stepped forward to bring care and safety. All of these people are our friends, coworkers, neighbors and siblings in faith for whom we have prayed fervently over these many hours.
Last week in our baptismal liturgy we renounced the devil, all the forces that defy God, the powers of this world that rebel against God and the ways of sin that draw us from God (and inflict pain on others). We then boldly confessed our faith focused on God as Father, Son and HS, giving thanks for God's grace and healing hope in Jesus Christ.
This day, in a little while, you will come forward by way of the center aisle to receive life in the real presence of Christ, forgiveness, and strength for the journey to walk with others from death into life.
Now, again, we pause, ponder and pray:
Loving Lord Jesus, you cried at the death of your friend, Lazarus. We come to you this morning sad and shaken at the death and injury of our friends, neighbors, and co-workers, our brothers/sisters in faith, people cherished by you. Gently hold us and all your children when we cry. Surround us with the safety of your healing embrace. Make your presence known to all who feel alone and are frightened. Keep us in your love now and always. Lord, Jesus, listen to your children praying. (Sing refrain twice) Amen.